The drain protectors provide us with a beautiful and squeaky-clean bathroom that we consider for our hygiene. We might ponder some specific features for this, but we will never get all of them at once.

The shower shroom and the tubshroomare beloved ones that we depend on the most. However, it is not possible to use both at once. For now, let's just select one of these models.

Being every homemaker's favorite, a battle between shower shroom vs tubshroom could leave you in a mess. Both are incredibly awesome and provide you with an excellent service.

Nevertheless, when we have to choose between them, we have to consider multiple user opinions. Comparing the two, depending on their features, we can get our desired prototype.

To get our desired result, we must consider the features that define a flawless drain protector. These include:
Construction material
Adaptability
Design of the hair catcher
Cleaning procedures
Price
Size of holes
Is it pet-friendly?
Extra accessories.
Installation
Difference between Tubshroom and Showershroom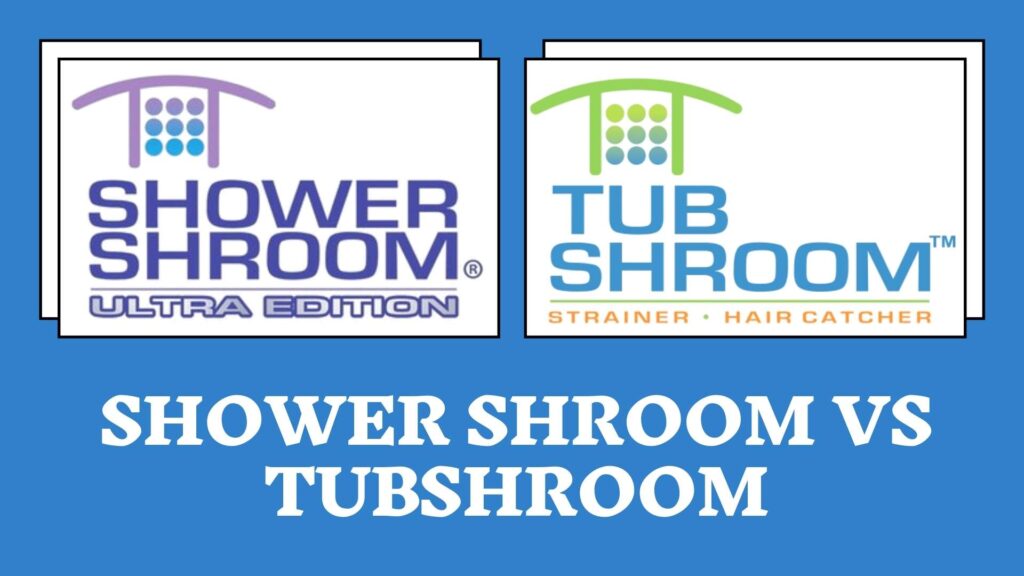 Let's take a quick look at the necessary factors that could help you know about the products. It will provide you with all the information you need to select your ideal model.
| Features | Tubshroom | Shower Shroom |
| --- | --- | --- |
| Weight: | 0.48 ounces | 1.44 ounces. |
| Height: | 1.5 inches | 2 inches |
| Construction: | Silicone | Rubber |
| Drain diameter: | 1.5 to 1.75 inches | 2.4 inches, round |
| Resistance type: | Stain-resistant and rust-resistant | Stain-resistant, rust resistance, and scratch resistance |
| Crossbar requirement: | Not required | Not required |
| Installation: | Easy | Easy |
| Toxic chemical cleaning: | No | No |
| Batteries required: | No | No |
Shower Shroom Vs Tubshroom: The Features You Might Consider
Construction of the drain protector
For saving up some money, we usually prefer using drain protectors that are made of plastic. If you do not come with a mentality to throw away the hair catcher as soon as it becomes dirty, you should not buy it or settle for any less.

Plastic turns flimsy with time and catches molds and other harmful stuff. So, we suggest that you purchase something that is rust-resistance. These types of materials tend to last longer than their counterparts.

In this case, you should prefer using silicone, stainless steel, or aluminum

The 1.44 ounces of the goodness of shower shroom leaves your bathroom perfectly clean without a hassle. It is made of a highly durable, rust-resistant, and high-quality silicone material that is scratch-free and does not bend easily.

It lasts as long as your bathroom does, which could be a severe problem for your plumber. Here, the shower shroom is the type of drain protector that will easily prevent clogged drains and last long enough to save you extra money.

On the contrary, the tubshroom, like its counterpart, also comes with a flawless construction that will leave you awestruck. The long-lasting superior silicone material is incredibly scratch-free with a patented design that comes in a variety of colors. It is rust and stain resistant that is the element of envy from all its competitors.
Design
When we are buying something, we tend to look at the appearance first. In this case, it is no different. While looking for the best among these giants, try to select the one with more effective design. For instance, choose the one that will hold up a hair catcher and keep it in place.

Moreover, you should also take in the one with a more innovative side of the pattern of the holes. They should have the ability to catch all the hair and prevent it from clogging the drain. The water must flow as smoothly as butter.

Taking a look at the design of these two-drain protectors, you will not be disappointed in any way. Shower shroom comes with an incredibly impressive design that can fit in perfectly in any 2" width drain very easily.

The design is slightly different from its predecessors, including an arm like structure to secure properly without falling itself. The pattern of the holes, on the other hand, is such that they capture all things that might clog the drain. The motion of the water is allowed to fall freely.

The tubshroom hair catcher, on the other hand, comes with a patented design that has a snug fit in your drain. The mushroom-shaped beauty allows maximum water flow as you bath while the hair collects at the bottom lip. The drain can easily restraint cleaning off for weeks without clogging its way. Trust me, as this one will give you the smartest drain protection ever.
Installation
Housewives spend a lot of time taking care of our homes. They don't have time to fit in a hair catcher that might require tons of tools to be equipped. Hence, they need one that could be installed in an instant. And that can be easily taken off when they need to.

In such circumstances, let's take a look at the tubshroom prototype first. It is effortless to install. You just need to place it inside your tub drain. Now, if you have a drain cover, simply remove it with a screwdriver, which will take a few seconds. You can check out for cleaning once a week.

Now, we will check out the installation procedure for the shower shroom. The crossbar like arm structure in the design of this gorgeous will allow you to put it in the drain easily. Exactly, that's all you need to do. Make sure to catch the clogged hair once in two months and forget about the plumber completely.
Cleaning procedures
We all know that cleaning could be such a fuss, and if your drain hair catcher adds to it, then it could mess up big time. While selecting the perfect model, you must consider such that it will be easy to remove and clean up in a jiffy. If it takes too much of your precious, then it is a big no.

Taking in the shower shroom first, you will notice that it easily catches all the hair out of your sight. When all are gathered in one place, all you will need to do is pull it out. You can then easily remove the hair by wiping it. Easy as that!

Then, what about the tubshroom? Effortlessly catching all the long locks within itself, it permits the water to run down without any obstruction. All the dirty stuff store in the bottom lip. With the intention of cleaning, you can swiftly pull it with one hand and wipe the gross things out with a paper towel. Trust me, and it has never been as laid-back as this.
Price
The price of a drain protector is not that important since it's such a small thing. To be exact, it is also quite inexpensive. But, for more reliable performance, try using the great brands in this sector. What better to use than the giants themselves.

If we compare the prices, we will notice that the shower shroom comes in a price range of $10.99 while the tubshroom comes at around $12.99, which is higher. Despite having almost the same type of features, the tubshroom is more expensive than its counterpart.

The price does not count in some cases, the characteristics do. If a costlier version is providing you with all the features you require, then you need to go for it. We hope that sums up almost 80% of the shower shroom vs. tubshroom debate. Let's wrap it up after discussing some feedbacks of both types.
Shower ShroomVs.Tubshroom: The Final Feedback
Shower shroom feedback:
This silicone drain protector is sure to catch all the hair due to its elegant yet effective design. It could be your long lock or even dog's fur. Nothing escapes this 2" hair catcher. Perfect for a drain of 2" width, it works wonderfully as a stand-up shower stall grate. The shower shroom hair catcher is not suitable for your bathtub or sinks. 

It is designed in such a way that it does not need crossbar support rather is has a hand like structure to fit upright in the sewer. Thus, it makes it quite easy to install and remove. In addition to this, it is also easy to clean. You will need nothing but a paper towel to wipe everything up and prevent a clog. No harsh chemicals are there to pollute the system.

The model is quite a durable one that will come in multiple colors to fit your taste. It is made in such a way that even your plumber will despise it. Even though it is heavier than its counterpart, it will not dissatisfy you.
Tubshroom feedback: 
This hulk in the world of drain protectors comes with a classy patented design that is more operational than the rest. A range of colors paints its palette, which suits your bathroom accordingly. It can fit in any 1.5 to 1.75-inch drain easily. It can also fit in your stand shower stall with a 2" width along with your bathtub and sink. 

The pattern of the holes is in such a way that it catches all the stray hair lying on your bathroom floor, disrupting the water flow down the drain. Even the mess of install is tangible to a great extent. All you have to do is fit in the drain, and you are done.

You can effortlessly remove and clean in the hair catcher as much as you want. But it won't give you that appreciation for more than two weeks. For cleaning it, you simply need to take out and wipe. No chemical or harsh detergent is required. It is a super environment friendly in this case.

It might be a bit pricey than its competitor, but it is lighter and has a thinner dimension comparatively. The tubshroom hair catcher reviews guarantee a satisfied user.
Related Article:
Is Drain Cleaner An Acid Or Base?
Frequently Asked Questions (FAQs):
Are they equally friendly for your pet as they are for you?
Shower shroom is such a hair catcher that it will capture all your hair no matter if it's short, long, thick, or thin. It is also prone to your pet's shedding fur and will also capture it in a jiffy. On the contrary, the tubshroom can catch body oil, beard, hair, and even your husky's fur. However, they handle clogging of hair differently. They are equally capable and are extremely friendly to your pet as well as you.
Which one is more environmentally concerned between the Shower shroom and tubshroom?
If we take a look at both the opponents, we will see that they both promote no harsh chemicals or detergents, just wipe it out as a common slogan. The shower shroom, on the one hand, needs no hard and fast cleaning method. You just need to wipe it with a paper towel. But it gets easily clogged within a week or two, which could go nasty.
While, if you take a look at the tubshroom, you will see that it follows the same type of procedure of cleaning. Yet it does not get clogged as fast as its opponent. It is made with the solemn pledge not to let any toxic foam or chemical enter the drain as drains might lead to some kind of water body, and it can ruin the ecosystem. So, we can mark easily and say that the tubshroom won this round.
We have already arrived at the moment you have been waiting for. In the debate of shower shroom vs tubshroom, both are awesome with alluring features and trendy designs. Come to think of it, and it will be hard to select which one is the best.

These two drain shrooms have almost the same type of characteristics with flaws and perfections in their way. Tubshroom, the revolutionary hair drain plug, is more iconic when it comes to saving the environment as well as your effort. At the same time, the shower shroom is cheaper and has an excellent catching ability for hair.

So, we have concluded to announce them both winners as they are both champions in their way. Here, the preference is all yours. The one you think fits for you is the best for you.